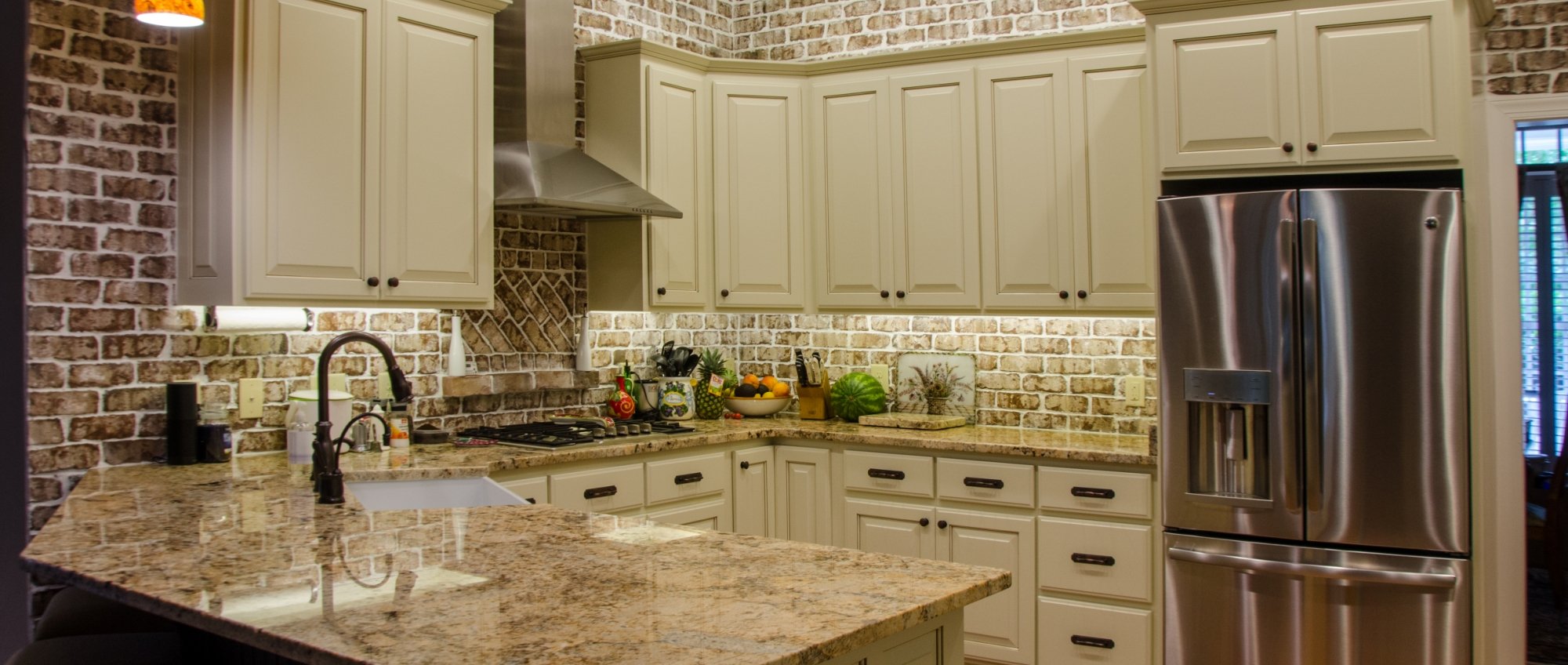 Our Custom Approach To Raleigh Interior Home Remodeling
Selecting a contractor is never easy and it requires a fine attention to detail. At Blue Ribbon™ Residential Construction, we try to set ourselves apart from the competition and, time and again, our previous clients report tremendous satisfaction with not only the finished interior remodeling work, but with our design and build process, as well.
Having any sort of work done on your Raleigh-area home is a process — and it isn't always an easy one — but with almost 30 years in the residential construction business, you can rely upon Blue Ribbon to help ease you through it, consulting with you the entire way, from start to finish.
Five Steps to Our Design + Build Process
Call the office or visit the website to request a complimentary Ball Park Estimate via the website. The next steps will occur in the following order:
Phone Interview – You will have a 15 minute phone conversation with the person who will be visiting your home to discuss your project.
We will speak with you about your home, ideas, important features, special requests, budget range, and time frames.
If our company feels like a good fit for you and your project falls within our field of work, a site visit will be scheduled with all interested parties.
---
Site Visit – Review the project specifications
discuss likely layouts; view your design inspiration; discuss the possibilities
gather additional information pertinent to the project
take notes and photos
agree on a time / date to meet at our design center for your estimate review
---
In Office Visit to Discuss Your Estimate – You will be provided with:
a brief description of your project
the basic square footage of the spaces to be remodeled
a list of items specific to your project and possible options
a realistic budget range
plans for next steps involving the design phases of the project
return on investment worksheet; reference list; and additional reference material
introduction of our construction management software and information sheet
an opportunity to browse our showroom where you can view cabinet samples; multiple possibilities for tile; plumbing fixtures and finishes; before and after photos of similar projects
We want you involved in our process so we can successfully provide for you:
familiarization with Blue Ribbon and how we communicate
an understanding of our design process
a visual demonstration how material finishes effect the budget range
the tools you will need to feel comfortable with your choice of Blue Ribbon for your project
All of this information is provided so you will have a good understanding of what is involved with your project.
We want you to have confidence in Blue Ribbon Residential Construction, Inc. and trust that our team is the right choice for your project.
Get ready, get set and go prepare your home for remodeling!
During the planning stage, we will concern ourselves with the attention to detail and thoroughness necessary for the success of your design. At the end of this three phase process, your project will be ready for the building permit application and the start of construction.
Co-Construct Setup
Blue Ribbon will create your project in our construction management software.
We will create a secure client portal so you can log into Co-Construct. This software will keep you informed of scheduling, material selections, budget and communications.
---
INITIAL DESIGN PROCESS: (Phase 1 of 3)
This meeting is held at your home. Please allow 1-2 hours with all interested parties.
Introduction of our interior designer (if part of your project). She will interview you regarding your personal aesthetic likes and dislikes.
Introduce our CAD technician who will draw plans of the existing structure, kitchen, bath, etc.
Our Blue Ribbon staff will create advanced drawings, photorealistic renderings of your project, floor plan printouts with perspectives and overhead views.
Selection and recommendation of products to be incorporated into your project
Obtain preliminary structural engineering if needed
Obtain information about special items included in your project
Schedule an in-office design presentation meeting
Host the in-office design presentation meeting to review plans and options for: material selections that would be complimentary with your home, life style and budget. Please allow 1-2 hours at our design center.
---
TRADE CONTRACTOR MEETING: (Phase 2 of 3)
This activity is held at your home. Please allow 1-2 hours with all interested parties.
All trade partners who will play a large role in your project are invited. You will meet many of the people who will be on site during the construction process.
We will take an in-depth look at the infrastructure of your home: HVAC, plumbing, electrical, framing, tile, cabinets & counters, etc.
Sets of plans are available to attendees for accurate quotes
As much as possible with non-destructive methods, we discuss the potential for unknown issues that might be discovered during construction.
---
PRESENT FINAL PRICING, SCOPE OF WORK AND PROJECT DOCUMENTATION: (Phase 3 of 3)
This meeting is held at our design center. Please allow 1 hour for review with all interested parties.
Review the Scope of Work and final selections
Review the cost breakdown, payment schedule and agreement documentation
Discuss preliminary production schedule
Once all documents are reviewed and agreed to, we are ready to submit all needed paperwork to secure a building permit. Receipt of the building permit begins the actual construction time line.
The time frame for the design of your project varies from 3 – 6 weeks depending on project type, complexity, ability to make selections, and in house personnel availability.
Having renovation work done to your home can be stressful, but don't worry. Our team has helped our clients plan for remodeling projects for over 25 years. Just before construction begins, your Site Superintendent will meet with you for your pre-construction meeting. All documentation will be reviewed again and we will finalize a start date. Other topics covered at this meeting, if necessary, include:
You will be given the guide "Preparing Your Home for Remodeling".
Advice for setting up and locating a temporary kitchen
Location of a portable toilet – out of sight but not in the neighbors yard…
Location of the material staging area with easy access to the site
Debris control – we will need a space to park our own small dumpster
Dust control will be discussed
Home security will be discussed and arranged
Project safety will be reviewed along with a discussion regarding children and pets
Payment schedules will be reviewed
---
Additional Renovation Recommendations & Considerations
We recommend an extensive discussion of the project with your family.
Renovations can be challenging to deal with but a good attitude and an understanding of what is scheduled to happen goes a long way toward your satisfaction.
For some family members the disruption of the home and personal schedules can be upsetting. Your calm demeanor can be reassuring. Remind them and yourself that this is a temporary inconvenience that will be worth it at the completion of your project.
Understand that if the area being remodeled is a kitchen, bath or master suite, it will be disruptive to you.
We work hard to make sure the mess is contained and minimally challenging to your family and your neighbors.
Dealing with dust – We make extensive use of drop cloths and plastic room dividers, but please remember that dust is hard to manage.
We will provide special flooring protection where construction traffic is likely.
Blue Ribbon will advise you about removal of items of value such as paintings, wall decorations, rugs, drapes and furniture.
---
Outdoor Landscaping Considerations: Grass, Shrubs, etc.
We will do our best to respect your landscaping, but sometimes damage is unavoidable.
We can talk about solutions for this, regarding damage control and replacement. These can be added to your scope of work if necessary and agreed upon up front.
Now you are ready — let the construction begin!
We're finally ready to pound some nails! Remodeling is very exciting when it begins and the results are worth it. However, it can also be emotionally taxing. Here are some suggestions to avoid the challenges and temporary chaos of a remodeling project:
During a home renovation, we rely on many individuals for your project. Delays can and do happen. This is not a perfect process and acknowledging this upfront prepares you for the challenge.
Your project has a custom schedule which will be a guideline. We know that you want your project finished as soon as possible but we build in buffer days to allow for times when no work is likely to happen. This allows for minor adjustments without completely rewriting the schedule.
Order and fabrication times on products vary. For example, there is a 7-10 day fabrication window on stone counters; the window you added at the last minute takes three weeks to arrive. This is construction reality.
When you partner with Blue Ribbon, you are assigned a Site Superintendent to communicate with throughout the building process. Keep in mind that your designer and the company owner are always available if needed.
Find a way to relax. Having a construction crew in your home working for days, possibly weeks or months can be difficult. You might consider taking a vacation, pick up a hobby (not necessarily wood working or construction), put your favorite restaurants on speed dial and know that we generally work Monday through Friday, so you can enjoy your weekend.
With our construction management software you can stay in touch and follow your project daily.
You are part of the team – If you find something that doesn't look correct, please ask about it. Keep in mind that some construction items can't be properly judged until they are finished. For example, tile work – it doesn't look finished until it is grouted.
There might be minor frustrations. PLEASE don't hide them. Allow us to make accommodations, explain or adjust processes.
Remember, temporary inconvenience – permanent improvement.
Nearly finished up – there is light at the end of the tunnel!
See What Our Valued Clients Have To Say
Committed to serving you with quality and value. We believe that everyone deserves to have a beautiful, comfortable home, and we offer our expertise and experience to help you get exactly the outcome you want.
Blue Ribbon Residential Construction | Raleigh, NC
5605-100 Chapel Hill Rd, Raleigh, NC 27607
Phone: (919) 852-3700