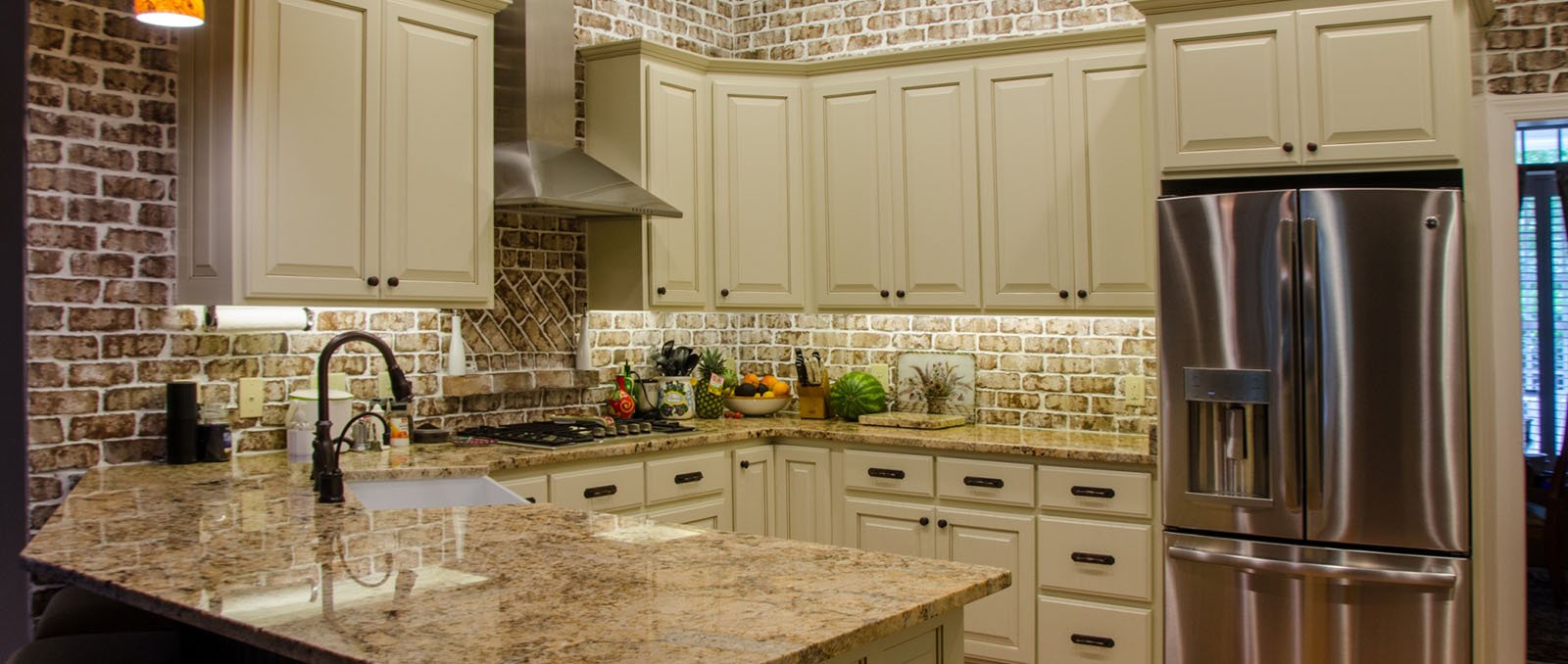 What's Popular in Kitchens Now
What's Popular in Kitchens Now
https://www.houzz.com/ideabooks/109950905/list/working-the-room-whats-popular-in-kitchens-now
Whether it's a splash of color in the cabinets, a champagne-brass drawer pull or a wall of open shelving, the kitchen ideas homeowners and designers are loving now can elevate everybody's favorite gathering space to home showpiece status.
Kitchens remain the most popular room for homeowners to renovate, and it's no wonder why — thanks to the array of popular and practical countertop, cabinet and lighting styles out there, an updated kitchen can make a house feel fresh again in a way other rooms can't. Here are the kitchen design ideas that pros, homeowners and Houzz photos say are taking off or still going strong.
Trend No. 1: Colorful Cabinets
What the pros say. "Painted cabinets are having a bit of a moment," says designer and decorator Nancy Harper of Washington, D.C.-based Studio Miel. Harper and other pros agreed that blues and greens are the go-to non-neutral colors of choice now, but Harper says she could see other bold hues — emeralds, darker shades — also take hold soon.
What popular Houzz photos say. Seven of the 10 most-saved kitchen photos uploaded in the last three months feature cabinets with some color, including four examples of blue cabinets, one example of green and two black. Even if gray and white are still more common in most remodels, many Houzz users are drawn to brighter pops of personality.
Getting the low-key look. Paul McAlary, of Pennsylvania-based kitchen and cabinet design firm Main Line Kitchen Design, says more colorful cabinets, particularly bolder shades like navy blue, can cost more. He doesn't recommend painting them yourself as it can damage the quality of the cabinets. Instead, he suggests homeowners get their color fix through the easier-to-update walls or backsplash. Still, painting your cabinets yourself is definitely the affordable option if you want to get the look for less. "They'll never look quite like they actually should, but it'll be [an updated] color and they'll be OK for a few years," McAlary says.
Getting the full-out look. Incorporate vibrant cabinetry in just the island or base cabinets, or create dimension and visual interest by pairing all-around colorful cabinets with contrasting countertops and on-trend brass or gold hardware.
Trend No. 2: Marbled Quartz
What the pros say. Homeowners looking to make a more dramatic, organic statement with their kitchen countertops used to gravitate toward natural stones such as granite for the unique speckling and veins. But pros say more natural-looking quartz — an engineered product that contains mostly quartz mineral, as well as resins, pigments and polymers — is showing up in more kitchens.
Designers are seeing more and more higher-end remodelers opting for quartz countertops that are designed to look like marble. Mary Kathryn Reese of Dallas-based Kitchen Design Concepts says slabs of these types of quartz, such as the popular Aurea Stone shown here, also are available in larger slabs now, making it easier to create seamless countertops.
Granite, still pricey but available in more affordable varieties than quartz, still reigns in some areas.
What homeowners say. Engineered quartz overall beat out granite 43 to 34 percent among homeowners updating countertops in the 2018 U.S. Houzz Kitchen Trends Study. (Countertops, homeowners said, were the kitchen feature they were most likely to splurge on.)
Quartz's expanding pattern palette may be contributing to its growing popularity, along with other pluses like its stain resistance and durability. Homeowner Jennifer Dabbs, who worked with Studio Miel's Harper to renovate her 1894 Washington, D.C.-area kitchen, says quartz's reputation for being a more contemporary style initially gave her pause. "I was afraid it would look too modern in our home," Dabbs says. "However, we chose a stone that replicates a marble and turns out to be exactly what we wanted in terms of functionality — low maintenance — and look."
What saved Houzz photos say. Favorite kitchen photos from the previous three months feature a number of white and white marbleized quartz countertops, including Cambria's Brittanicca and Walker Zanger's Calacatta 981 Quartz, which can be striking against a wood butcher-block island or countertop extension.
Trend No. 3: Open Shelving
What the pros say. Open shelving can make a kitchen look taller and airier. As this look gets more popular, Luke Owen of Kansas City-based Owen Homessays his team has seen a corresponding spike in requests for hideaway places for smaller appliances, outlets and other clutter.
Dishes, plants and knickknacks displayed on open shelves need thoughtful curation to avoid a cluttered look, so having spaces to tuck away less-attractive counter-crowders can keep things balanced and tidy. Having fewer pieces on the shelves also minimizes the risk of your favorite platter crashing down. (Open shelves typically aren't made to withstand the weight cabinets are.)
What homeowners say. Though it can work with a number of styles, the sometimes minimalist, sometimes rustic vibe of wood and metal open shelving fits right in with transitional, contemporary and farmhouse kitchen styles — the first, second and third most-popular new kitchen styles that renovating homeowners chose when updating their kitchens, according to the Houzz 2018 Kitchen Trends Study.
What saved Houzz photos say. Natural wood open shelving seems to come up the most in recent popular photos, though white and black examples also appear.
Getting the low-key look. Even just a few shelves can draw the eye up and make a small space look bigger.

Getting the full-out look. More shelves mean more styling and maintenance to keep your kitchen from looking too busy. To create that sleek, intentional feeling with more shelves, group items by color, leave some shelf space open and carve out plenty of sturdier, hidden space for bulky appliances and mismatched dishware.
Trend No. 4: Still Shaker
What the pros say. The versatility of basic Shaker cabinets — defined by their flat center door panels and a generally clean raised-square frame — continues to make them a popular pick for kitchens. "Shaker-style cabinets are very popular because they can look a little bit traditional and they can look a little bit modern," Harper says. "They have clean lines, so depending on the hardware that you choose and other elements in the kitchen, it can go either way."
What homeowners say. By choosing Shaker style for her cabinet redo, Dabbs says she was able to give a nod to her traditional house's history while giving the space a fresh update. It also saved her a significant amount of money, as the inset cabinets she had initially wanted would have cost $20,000 more.
And she's not alone: Shaker cabinets remain the most popular among all segments of homeowners, according to Houzz research.
What saved Houzz photos say. More than half of the 20 most popular recent kitchen photos featured Shaker-style cabinets.
Trend No. 5: Staying Connected
What the pros say. High-tech touch-screen refrigerators and ovens have yet to really catch on with the typical homeowner, pros say, but smart electronics are appearing in the kitchen in other ways.
The Dallas-area clients that Reese works with can be a little leery of major appliances with too many bells and whistles, Reese says. "They're a little afraid of that technology," she says. "Is it going to break? How much will it cost to fix it? How long will it take to fix it? Is it going to be too difficult for me to actually cook even though the whole premise is to enable the whole cooking experience?" Other pros echoed similar sentiments.
Where technology is cropping up more in the kitchen is through wireless speakers, smart lighting and voice-controlled TVs and assistants. Harper says her clients are always looking for more outlets and often a separate charging station in the kitchen for powering their devices, though she's noticed she's adding fewer USB connector ports as technology evolves.
What homeowners say. Touchscreen controls or built-in speakers appear in 1 in 4 new appliances that homeowners are choosing as replacements for their old gadgets, the kitchen study found. Wireless and voice-controlled appliances appear in 11 percent of upgraded appliances.
Getting the low-key effect. A voice-controlled or wireless speaker or digital assistant comes in handy in the kitchen when you need a measurement converted or background dinner-making music.
Getting the full-out effect. Homeowners reported their refrigerators, dishwashers, microwaves and range hoods were their top updated appliances, so tricking out those major players with touchscreens and smart controls may be the way to go if you're tech-happy (and have the budget for it).
Trend No. 6: Going Gray
What the pros say. There's nothing drab about gray these days, and there hasn't been for quite a while. In fact, a lot of pros consider it the new(ish) neutral.
What homeowners say. While white still holds the lead for most popular cabinet color among homeowners, gray wins for go-to wall color.
What saved Houzz photos say. Gray shows up in Houzzers' kitchen ideabooks constantly.
Getting the low-key look. A gray island, accent wall or tile can add an element of calm sophistication to a kitchen.
Getting the full-out look. Because gray is so mellow a color, your kitchen may be able to handle gray cabinets, shelving and backsplash, like the kitchen shown here, without feeling overpowering.
Trend No. 7: Let There Be Light
What the pros say. Owen says good lighting is the second-biggest kitchen priority he hears from clients behind opening up a kitchen space into a living area. To get it, he might add a picture window above a sink or score more natural light by knocking down a dividing wall. Statement pendants, like the ones shown here, are also popular, as are sconces, which can come in handy in illuminating an open shelf.
What saved Houzz photos say. Dramatic pendant lights and chandeliers, many with gold details, are a repeat sight in the recent most-saved kitchen photos.
Getting the low-key look. Light fixtures can be a great place to test out a trend, as they're typically easy to replace or upgrade, Harper says.
Getting the full-out look. Statement lights you can control with your voice or a smartphone are all the rage.
Trend No. 8: White Everything
What the pros say. The all-white trend doesn't seem to be going anywhere, to some pros' dismay. "You're spending all this money for cabinets and all this money for countertops and everything else, and when everything is white nothing stands out," McAlary says. Harper says if her clients are leaning toward a white-on-white look, her team will typically suggest adding tile or backsplash that makes the space a little more dynamic and unique — an approach she expects to see more of going forward.
What homeowners say. White still tops remodeling homeowners' favorites list when it comes to cabinets and backsplashes, and it narrowly trails gray in wall color preference, according to the Kitchen Trends Study.
What saved Houzz photos say. Survey-taking homeowners and pros say all-white everything is still the most common choice in practice, but when Houzz users are planning or daydreaming about their next projects as they're scrolling through photos on the site, it's mostly shades of blue and gray they covet. Could that mean white kitchens might get knocked from their popularity throne in the next few years?
Getting the low-key look. White is classic and crisp, and it works with all kinds of kitchen styles. White countertops paired with either white upper or lower cabinets or a white backsplash leave room to break things up with a gray island, black countertops or another colorful accent.
Getting the full-out look. White cabinets, countertops, backsplash, appliances — go to town!
Trend No. 9: Mixing Metals
What the pros say. As cabinet pulls, light fixtures, faucets and other hardware are one of the easiest parts of a kitchen to swap out, they're a logical place to try something new. And pros say that while oil-rubbed bronze and brass were must-haves recently, people are experimenting with a variety of metal finishes, including champagne brass and charcoal stainless.
"It's not just about brass anymore. I feel like for a while everybody wanted brass, but there are so many beautiful options out there," Harper says. "And I think people are a little bit more comfortable mixing metals too." A client might opt for brass hardware and a different metallic color in lighting, she says.
What saved Houzz photos say. Saved kitchen photos from the past three months feature a mix of more golden brass hardware and darker bronzes, often set against the glint of stainless steel appliances.
Getting the low-key look. Just one element — a pendant light, stool legs, a faucet — with a different finish can help you avoid any matchy-matchy monotony and give your kitchen a bolder, lived-in edge.
Getting the full-out look. Incorporating too many different finishes in one space can feel busy, but two or three can make things interesting and sophisticated.
Houzz Editorial Staff. Lover of architecture, history, dogs, the Chicago Cubs, crowded bookshelves, and homes with a story. Former editor at Preservation mag and 
Culturess.com
.